Eudora
Setting up Eudora to retrieve your mail is pretty simple. As seen below, this step by step setup will help you get your mail.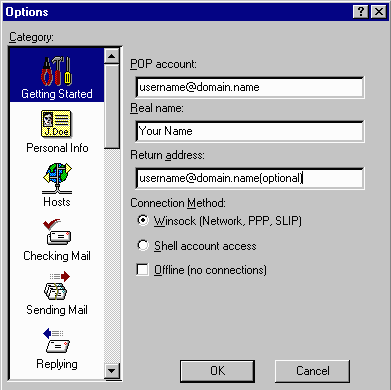 Within Eudora, Select "Tools" and then Select "Options".
Within the Tool Bar on the left side of the Box, Select "Getting Started"
Enter your POP Account Information, example username@abc.com

(the following two steps are optional)
Enter your Real Name, example John Doe
Enter your Return Address, example username@abc.com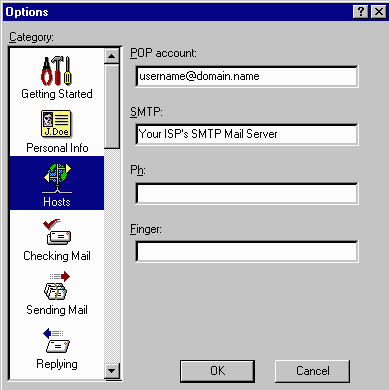 After completing the first section, Select "Hosts" within the Tool Bar.
Verify that the POP Account information is correct.
Enter your Internet Service Provider's SMTP Mail Server information.
Example mailhost.your_isp.com
(mailhost.your_isp.com is the SMTP Mail Server for that Internet Service Provider)

Note: Our UNIX web hosting customers can use our SMTP server if you need to have your outgoing e-mail look as if it originated from your domain instead of from an ISP.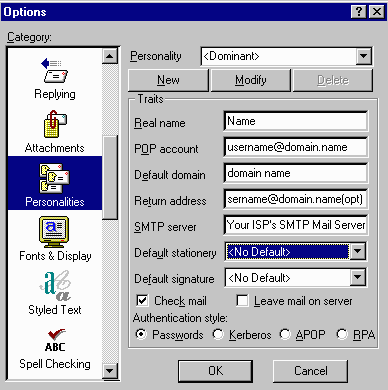 If you have multiple accounts within the same domain name, you make use this feature to download the mail as that user. All what is needed is the basic e-mail account information and to save the information within Eudora.
---
Netscape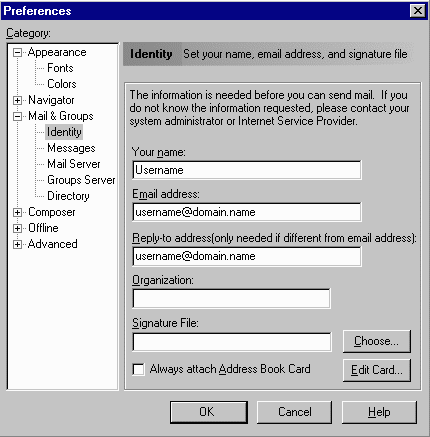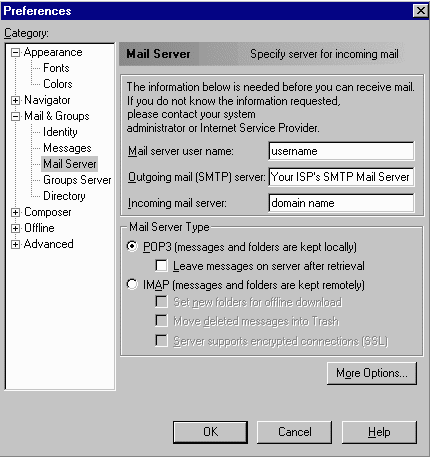 ---
Microsoft Outlook
Go to the following menu:
Tools --> Services in Outlook 97
Tools --> Accounts in Outlook 98
Tools --> Accounts then Add --> Mail in Outlook 98 Internet Edition
Highlight internet mail and then push the properties button.
Fill in the correct information as indicated below:
Full Name: your full name
Email Address: yourname@yourdomain.com
Internet Mail Server: yourdomainname.com
Account name: The name of the pop3 account.
Password: The password for the pop3 account.
Then you will need to select Advanced Options button.
In the advanced options dialogue box, you will need to put your outgoing
SMTP server information.
---
Pegasus Mail

Select Tools -> Options
Select the "Network" tab
'Your e-mail address is' box: yourname@yourdomain.com
POP3 host: yourdomain.com
User name: Name of the POP3 account
Password: POP3 password
SMTP Host: Enter your SMTP server information
Select the "Advanced network configuration options" button. Make sure that the "Delete mail from host once successfully retrieved" box is checked, and then click "OK"
Select the "General"tab
Personal name: Enter your real name
[an error occurred while processing this directive]