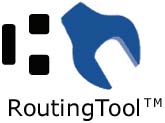 Routing Number Verification System
To look up any U.S. Routing Number.
Provides: Bank Name, Address, Phone Number
New users: Sign Up for Instant Access
Use the System Right Now for Free.
Just Need Simple Validation?
Verify the validity of any U.S. Routing Number

The ABA Routing Number / RTN is located between the |: |: symbols.

This transit number is always 9 digits for a U.S. check.
Advertisement: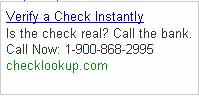 Advertisement:



Learn how to verify checks online.

Advertisement:



Learn how to accept checks by phone.
Look up information for ACH transactions,
Check or Draft transactions, or simply Validate the 9 digit ABA
routing
number.
Use simple validation to find out if the Routing Number is a possible routing number.

Some new or expired routing numbers may be valid, but not yet listed in the Federal Reserve's database.
The "ACH Only" option will provide the bank's
phone number
for account validation
or funds verification.
RELATED LINKS:
Reorder Checks
Take Checks by Phone
Credit Card Validation
Bank Identification Number
Verify a Check